5-Day Military Drill Vigilant Ace started including 2 dozen Stealth jets in Korean Peninsula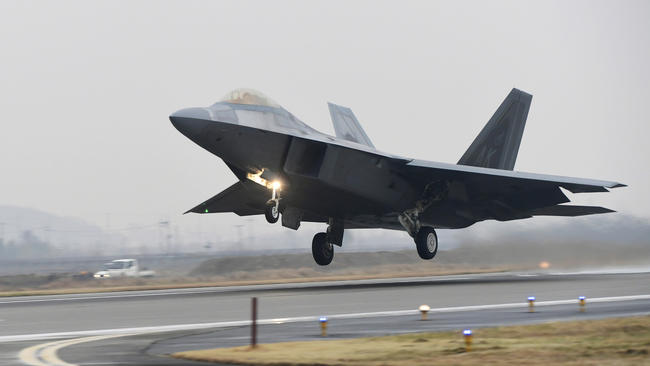 On Monday, a large number of aircrafts including 2 dozen stealth jets have started training. The United States and South Korea have recently launched their massive combined air force exercise. It started just after one week when North Korea launched its most powerful missile ever. North Korean ICBM might be able to target eastern seaboard of the United States. The Defense Ministry of South Korea said that the 5-day drill is called Vigilant Ace and its major objective is to enhance the wartime capabilities of allies. The U.S. Air Force sent 7th major strategic military assets including six F-22 and 18 F-35 stealth fighter jets. The fighter jets will participate in the annual training exercise in the Korean Peninsula. At least 12 thousand U.S. military personnel are also participating in a 5-day exercise.
Some local media reported that B-1B bombers will also join aerial drills, but officials didn't confirm the reports. The state media of North Korea said that the joint drill pushes the Korean Peninsula to the brink of nuclear war. Before the start of the exercises, on Sunday, the Korean Central News Agency said that Pyongyang will seriously consider countermeasures against the drill and the U.S. and South Korea will pay dearly for their provocations. On Sunday, a U.S senator from the state of South Carolina, Lindsey Graham said that he believes that it's time for the U.S. military families in South Korea to leave the country due to expected conflict with North Korea is not too far. But, the U.S. government hasn't yet announced a formal decision to evacuate the U.S. citizens from South Korea.