Congressional Gold Medal Awarded to Former Sen. Bob Dole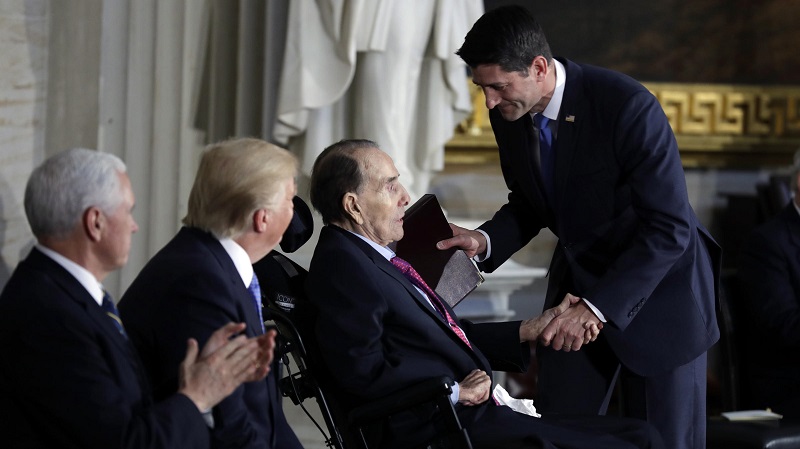 On Wednesday, former U.S Senator Bob Dole collected the Congressional Gold Medal. It was due to his dedication to the nation as a "Brilliant legislator and soldier". The House Speaker Paul Ryan presented the Gold Medal at a ceremony in the U.S Capitol building. Other party leader and U.S President Donald Trump also attended the ceremony. Dole was in the back of Trump and he was the only former GOP presidential nominee to defend the U.S president. Ryan said that Bob Dole always stood for what was just and what was right and because of Bob, America is now much better. The U.S President also called Bob "A true American Hero, Good job". Two-thirds of the House and 67 U.S Senators supported Dole to award the medal.
U.S Senator, Pat Roberts said that he gathered support from all 100 U.S Senators for Dole's medal in just 2 days because he is our national hero. Dole expressed his feelings and said that he needs to thank all of them for delivering such words about him. He thanked his congressional supporters over the years. Dole served 35 years for U.S Congress and most of them in the U.S Senate. He was the GOP nominee for the U.S President in 1996, losing to Bill Clinton. He formerly lost 2 bids for the Republican nod and he was a running mate of President Gerald Ford in 1976. The Congressional Gold Medal has been awarded to a number of recipients, from George Washington to Rosa Parks to Frank Sinatra. It has been considered the highest nation-wide expression of appreciation for remarkable participation and achievements.